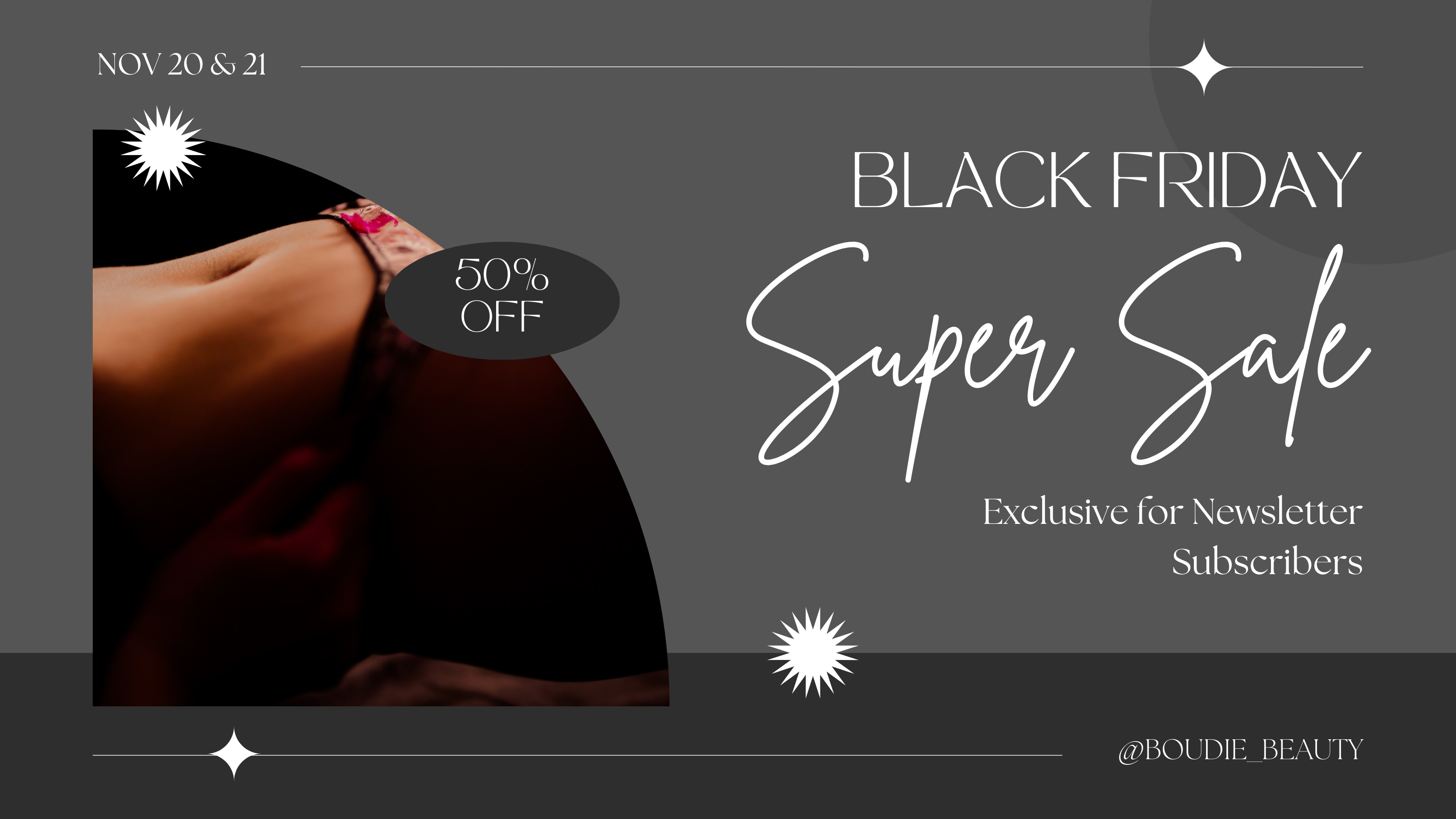 Unveiling Boudie Beauty's Exclusive Black Friday Spectacular: The Biggest Sale Ever!
Hey Gorgeous Souls,
Are you ready to embark on an empowering journey, capture your essence, and celebrate your unique beauty? Brace yourselves because the countdown to our Black Friday extravaganza at Boudie Beauty is on!
The Grand Celebration
On November 20th, our doors swing open to an exclusive 48-hour Black Friday event! Exclusive to our newsletter subscribers, this is your chance to dive into an unforgettable 50% off on our Empowerment Boudoir Experience. This experience is curated to celebrate your journey and boost your confidence while capturing the essence of your beauty.
But wait, there's more! With your purchase during this sensational sale, you'll receive a remarkable 40% off coupon towards our captivating image collections. However, if you decide to invest fully in the image collections on the sale day, you'll enjoy an incredible 45% off! Remember, these collections aren't just pictures; they're empowering moments encapsulated through boudoir photography sessions. 
An Opportunity for Everyone
While this sale is an exclusive treat for our subscribers, it's also an invitation for those who still need to join our community. By subscribing to our newsletter, you'll unlock access to this monumental event and future empowering updates. Join us on this empowering journey of confidence, body love, and acceptance through boudoir photography.
How to Join the Celebration
Sign up for our newsletter now to gain access to this extraordinary event. As a subscriber, you will gain access to this exclusive Black Friday sale and receive empowering content, updates, and future exclusive offers directly to your inbox.
Important Details
-Sale Dates: November 20th – November 21st
-Boudoir Experience: 50% off
-Coupon towards Image Collections: 40% off (or 45% off when purchased in full on sale day)
-Sessions booked must be scheduled for the 2024 season
-The coupon is exclusively applicable towards image collections and cannot be used for a la carte items
-Available to newsletter subscribers only!
Ready to Embrace Your Power and Beauty?
Mark your calendars, set reminders, and prepare to indulge in this exclusive opportunity on November 20th. It's time to seize this chance to capture your confidence and radiance through our boudoir photography sessions!
Are you as excited as we are? Because we cannot wait to embark on this empowering journey with you!